You've probably noticed that Rosmerta's forum section is quite inactive, but really we communicate on other plat forms. Some servers/clans use Line, Facebook, Discord and others, but If you are looking for more ways to
get in contact with Rosmerta's community
, we are mostly located on the
communication app "Band"
. If you are interested in joining the Clan Forever or its feeder clan TheReal there are bands that can be joined but only upon membership. The first band in particular you could join is "Celtic Heroes Friends" which is ran by JoanOfArc. This band group is compiled of many servers like Arawn, Rosmerta, and others.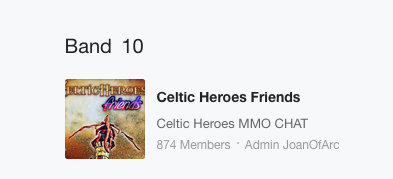 Be aware of fake accounts and scammers and don't give any account information to anyone.
Thinking of coming to Rosmerta?
Rosmerta has a vast and diverse player base. The economy is strong. Sks range from 3-4k, specialty pet items run from 1-2 mil, and chests range from 30-40k (people selling chests on the auction house for 60k+ are not the going rate). Rosmerta's strongest and main clan Forever and its feeder TheReal led by DrGreenThumb have a great player base and and strong caring leadership. We regularly kill all end game bosses with exception of Dino(in the near future) and usually get a turn out of 40-50 players+ at Gelebron and Bloodthorn. This is just a very broad introduction to Rosmerta but I hope it provides some insight.